Candles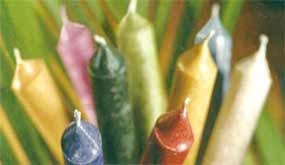 These top quality Canadian- Made candles are the best value your money can buy.Self- Contained Candles, Tapers, tea-light, Colorflames, metallic, etc...

Toutes nos chandelles dans cette section sont faites au Canada et sont d'excellente qualitée. En contenant, bougies, t-light, flammes de couleurs, métallique, etc...

Click a link below for more information:

Cake Fountain [JPG]
ColorFlame [JPG]
Colourful Fire [JPG]
Cylindrique [DOC]
Musical Candles [JPG]
Palm Candles [DOC]

Click here to download the price list (members only).

Tip: print the price list (order form) for easy ordering.




Click here to return to Products/Produits.





17 505, Val d'Espoir, Saint-Janvier, Mirabel, (Quebec) Canada J7J 1M3
T. 450.435.4161 | 800.561.4161 | F. 450.435.6150 | F. 888.435.6150
LesEntreprisesADS@gmail.com | www.adsinternet.ca

Products | Terms | History | Trade Shows | Documents | Contact
Home