Incense and Accessories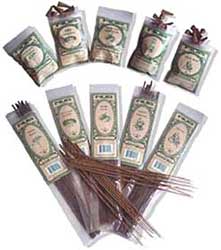 High quality incense from all over the world in all shapes and forms. Including Nur from Canada, Morning Star from Japan,Nag Champa from India and Gonesh from the U.S.A.

Encens de haute qualité en provenance de partout dans le monde et sous toutes ses formes.Inclus; Nur du Canada, Morning Star du Japon, Gonesh des Etats-Unis et Nag Champas des Indes

Click a link below for more information:



M Star (new) [PDF]


Incense Products - Information Sheet [PDF]


Incense Accessories - Information Sheet [PDF]


Smudging [PDF]

Click here to download the price list (members only).

Tip: print the price list (order form) for easy ordering.





Click here to return to Products/Produits.





17 505, Val d'Espoir, Saint-Janvier, Mirabel, (Quebec) Canada J7J 1M3
T. 450.435.4161 | 800.561.4161 | F. 450.435.6150 | F. 888.435.6150
LesEntreprisesADS@gmail.com | www.adsinternet.ca

Products | Terms | History | Trade Shows | Documents | Contact
Home